SPOILER WARNING: Plot details follow. Caution is advised!
This page is a chronicling of the events unfolding in the Shadowhunter Chronicles. For the complete list of known births and deaths not included here, go to the life timeline.
For a simpler listing of the chronological order of each installment, with years, click here.
If you wish to suggest any major changes to this page, please take it to the talk page or contact an administrator. But as of now, feel free to contribute as we need more content on the page.
This page is a work in progress.
---
Early days
Incursion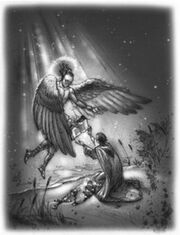 AD 1000: Shortly after the first Christian Millennium, the demons began their large-scale invasion, termed the Incursion, of the world around this time.
Angel Raziel appeared to Jonathan Shadowhunter and gave him the Mortal Instruments to begin the race of Nephilim.
AD 1444: The first vampires were created in a public ceremony.

The Greater Demon Hecate was summoned in a massive blood-based sacrifice held at the Court of Wallachia (modern-day Romania). In exchange for his impressive sacrifice and act of savagery, Hecate transformed Vlad III and a large majority of his court into the first vampires.
17th Century
18th Century
French Revolution
19th Century
Early years
Victorian era
1878
October – December

Events from Clockwork Princess
Mortmain and his army of automatons were defeated.
Charlotte Branwell became Consul, and Will Herondale replaced her as the Head of the London Institute some time after.
The Enclave threw a Christmas party at the London Institute, and Will proposed to Tessa.
End of the century
20th Century
Edwardian era
Roaring Twenties
Later years
1936 - October 29 - Events from Learn About Loss
1940: December 29 - Events from A Deeper Love
1953 - Events from Saving Raphael Santiago

Raphael Santiago was Turned into a vampire.
Magnus helped him readjust to life and pretend to still be mundane for his family.

1962

The Seventh Accords was signed.
Events from What Really Happened in Peru
Magnus met Kitty and began a brief life of crime with her in several countries for one whole summer.
Some time after, the High Council of Peruvian warlocks met in secret and decided to ban Magnus from Peru "for crimes unspeakable."

1977 - Events from The Fall of the Hotel Dumort

Magnus returned to New York from a two-year trip.
The vampires had become addicted to cocaine and were unable to control their feedings on humans. With the werewolves' and Magnus' help, they were able to lock and sober up the vampires inside the Hotel Dumort.

1984 - Events from The Evil We Love
Later years — potential period of events of The Secret Treasons
1989 - Events from The Last Stand of the New York Institute, andCity of Bones and City of Glass flashbacks/stories

The Circle had begun campaigning for harsher sentences against Downworlders, which they demonstrated by going around Idris and other cities, claiming to help Institutes on missions where they, in fact, set to out to kill Downworlders, even those who were not breaking the Accords.
The Circle eventually came to New York and began by killing vampires at the Spanish Harlem. Afterwards, they intended to kill a family of werewolves that had separated from a pack and faced Magnus Bane and the Conclave members who were defending them. They ended up killing a couple of the werewolves and the Whitelaw family of Shadowhunters.
Lucian Graymark was Turned into a werewolf and became the leader of the Brocelind werewolf pack. Stephen then became Valentine's new second-in-command, replacing the now believed to be deceased Luke.
August - Events from The Wicked Ones; Céline Montclaire, Robert, Stephen, and Valentine went to Paris on a mission, ending with Valentine framing and having Céline's parents killed.
Stephen left his wife Amatis and married Céline.

1990

Events from City of Bones and City of Glass flashbacks/stories
Jocelyn discovered his plans shortly after giving birth to their son, Jonathan Christopher. Ragnor Fell helped her locate Luke and gave her a spell and a means to contact and warn the Downworlders. Together, the three helped make plans to thwart the Uprising.

1991

Events from City of Bones and City of Glass flashbacks/stories
Valentine moved the Circle's plans into action.
Stephen was killed and his wife Céline committed suicide. Valentine, with Hodge Starkweather's help, took the child he had been experimenting on from her corpse and hid the baby in his house's (the Fairchild manor) basement before letting Hodge hide with the infant in his childhood home.
The first attempt to sign the Ninth Accords took place, done more than a year early to make way for a lengthy faerie ritual done every 500 years that would have conflicted with the planned 1992 signing (15 years after the last).[4]
The Uprising occurred, disrupting the very signing of the Accords, causing the death of Shadowhunters and Downworlders.
Valentine murdered Michael Wayland and his son in order to fake his and his own son's deaths.
Jocelyn left Idris and went to Paris with Luke. She later ran away again to New York, where she took the name Jocelyn Fray.
Robert, Maryse, and Alec Lightwood were exiled from Idris to run the Institute in New York. With them was Hodge Starkweather, who was cursed for his part in the Uprising.
Imogen Herondale became the Inquisitor.

1993 - Events from The Last Stand of the New York Institute
1995/1996/later 1990s: Lucian Graymark moved to New York to be close to Jocelyn and her daughter and took up the name Luke Garroway.
21st Century
2000
2007
Events from The Mortal Instruments
August

Events from City of Bones and The Course of True Love (And First Dates)
Clary met her first group of Shadowhunters and learned about her heritage.
Jocelyn was taken by Valentine and his men.
Clary and Jace Wayland, along with Luke and a few others, faced Valentine. Jace was then led to believe that he was the son of Valentine and Jocelyn, hence the brother of Clary. Jace chose to fight against Valentine and Jocelyn, though still unconscious, was retrieved.
October

Events from The Red Scrolls of Magic, City of Fallen Angels and the prologue of City of Lost Souls
Clary begins her formal Shadowhunter training under Jace's tutelage.
Magnus and Alec go on a vacation and end up taking down the Crimson Hand.
Jace falls under the demonic influence of Lilith, who had kept Sebastian's body after the war. She blackmails Simon to exchange blood with Sebastian to revive him.
Sebastian is brought back to life with Jace under his influence.
November

Events from City of Lost Souls
Clary joined Jace and Sebastian, pretending to agree with their views long enough to be able to spy on them, relay their plans to her friends in New York, and give them time to figure out a way to sever the pair's demonic bond.
'Team Good' in New York summoned the Angel Raziel, who then gave Simon the sword Glorious to use against either of the pair, in exchange for Simon's Mark of Cain.
The Infernal Cup was created, and Sebastian was able to Turn several of his followers into Endarkened Shadowhunters at the Seventh Sacred Site at the Burren in Ireland. The Shadowhunters, and certain Downworlders, of New York arrived and managed to defeat several of them in battle, forcing the remaining ones to flee, while Clary, though she failed to reach Sebastian to use the sword on him, stabbed Jace with the sword, and the heavenly fire burned away the evil, particularly his bond with Sebastian, in him.
2008
2009
Events from Tales from the Shadowhunter Academy: The Evil We Love, Pale Kings and Princes, Bitter of Tongue, and The Fiery Trial

May[2] (The Evil We Love): The Inquisitor Robert Lightwood went to the Academy with his daughter, Isabelle, to lecture them about the Circle and the dangers of bad influence disguised in charm. After, the end of the first year of the Academy was commemorated with a party before their summer vacation.
September (Pale Kings and Princes): The second year of the Academy started. Helen Blackthorn was brought in to speak at the Academy and tell the believed tale of what transpired between her parents.
October 1 (Bitter of Tongue): Simon ended up a captive in Faerieland, where he met Mark Blackthorn, who later helped him and Isabelle escape. Helen and Aline were wed.
December (The Fiery Trial): Beatriz Mendoza and Julie Beauvale's decision to become parabatai was announced; on the same day, Simon and Clary's potential to become "true parabatai" was tested. The next day, they witnessed Julian and Emma's parabatai ceremony.
2010
2012
2013
2015/2016
Events from The Wicked Powers (set to take place three or four years after The Dark Artifices)
Books chronology
This section is for those who simply want the chronological order of each book and installment. For more information, see above or the wiki's readers' guide.
The Shadowhunter's Codex (historical content)
What Really Happened in Peru, 1791 (TBC)
The Runaway Queen, 1791 (TBC)
The Lost Herondale, 1828 (TftSA told story)
Vampires, Scones, and Edmund Herondale, 1857 (TBC)
Clockwork Angel, 1878 in April–July (TID)
Clockwork Prince, 1878 July–August (TID)
Clockwork Princess, 1878 October–December (TID)
What Really Happened in Peru (TBC)
The Whitechapel Fiend (TftSA flashback)
What Really Happened in Peru (TBC)
Nothing but Shadows (TftSA flashback)
Every Exquisite Thing (GotSM)
The Midnight Heir (TBC)
Chain of Iron (TLH)
Chain of Thorns (TLH)
Learn About Loss (GotSM)
A Deeper Love (GotSM)
Saving Raphael Santiago (TBC)
What Really Happened in Peru (TBC)
The Evil We Love (TftSA flashback)
Pale Kings and Princes, ca. 1988 (TftSA story)
The Last Stand of the New York Institute, 1989 (TBC)
The Wicked Ones, 1989 in August (GotSM)
The Last Stand of the New York Institute, 1993 (TBC ending)
Son of the Dawn (GotSM)
The Shadowhunter's Codex (content revised edition)
City of Ashes (TMI)
City of Glass (TMI)
City of Fallen Angels (TMI)
The Shadowhunter's Codex (notes)
City of Lost Souls (TMI)
City of Heavenly Fire (TMI)
Clockwork Princess epilogue
Welcome to Shadowhunter Academy (TftSA)
The Lost Herondale (TftSA main story)
The Whitechapel Fiend (TftSA)
Nothing but Shadows (TftSA)
The Evil We Love (TftSA)
Pale Kings and Princes (TftSA)
Bitter of Tongue (TftSA)
The Fiery Trial (TftSA)
Born to Endless Night (TftSA)
Angels Twice Descending (TftSA)
The Land I Lost (GotSM)
Through Blood, Through Fire (GotSM)
Lord of Shadows (TDA)
The Lost World (GotSM)
Forever Fallen (GotSM)
The Black Volume of the Dead (TEC) — pending
References
See also