"Their world was not the same shape as the one she knew."

The subject of this article is a real-life person, place, company, product, or creative work that has been mentioned "in-universe" in a canon source. The Shadowhunters' Wiki is written from the perspective that all information presented in canon is true (e.g., Idris really exists), and, as such, details contained in this article may differ from real world facts.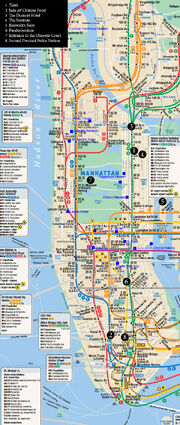 New York City is the most populous city in the United States.
Locations
Institute
Found here, in Manhattan, is the New York Institute, where the Lightwoods reside and govern the local Conclave.
Homes
In the 1870s, Tessa Gray lived with her brother Nate and her Aunt Harriet in a small apartment in Manhattan.
Jocelyn and Clary Fray once resided in a brownstone apartment in Park Slope in Brooklyn. Simon Lewis, his sister Rebecca, and his mother, Elaine, also live in a row house in Brooklyn. Magnus Bane's apartment is also in Brooklyn. Luke Garroway runs a bookstore out of his house in Manhattan, and has a farm in upstate New York. Jordan Kyle and Simon also shared an apartment in Manhattan that is now being rented out by Maia Roberts. Jocelyn and Clary also used to live in East Village, Manhattan.
Shadow World
Other
Trivia
References