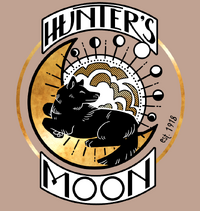 Hunter's Moon is an underground Downworld bar on Hester's Street in Manhattan, New York City. Its clientele is primarily werewolves, and is frequented by many members of local downtown pack. They served yard of ale, among other things, and did not card active werewolves, even those underage in mundane years.
History
Once a speakeasy during the Prohibition era, it was taken over by Downworlders sometime in the 1940s.[1]
In 2007, the Nephilim Jace Herondale walked into the Moon for a drink and immediately stirred up tension among the werewolves. To avoid worsening the situation, the bartender Pete sent Bat out to cool off. Upon seeing a werewolf cub named Joseph die in the alley outside the bar, as well as a mysterious figure over the body and another who fled, Bat rushed back in to ask for help and got into a brawl with Jace instead, only to be stopped by Luke Garroway.[2]
References
Community content is available under
CC-BY-SA
unless otherwise noted.