City of Fallen Angels is the fourth novel in the The Mortal Instruments series written by Cassandra Clare.
Description
The Mortal War is over, and Clary Fray is back home in New York, excited about all the possibilities before her. She's training to become a Shadowhunter and to use her unique power. Her mother is getting married to the love of her life. Downworlders and Shadowhunters are at peace at last. And—most important of all—Clary can finally call Jace her boyfriend.
But nothing comes without a price.
Someone is murdering the Shadowhunters who used to be in Valentine's Circle, provoking tensions between Downworlders and Shadowhunters that could lead to a second bloody war. Clary's best friend, Simon, can't help her. His mother just found out that he's a vampire and now he's homeless. Everywhere he turns, someone wants him on their side—along with the power of the curse that's wrecking his life. And they're willing to do anything to get what they want. At the same time he's dating two beautiful, dangerous girls—neither of whom knows about the other.
When Jace begins to pull away from Clary without explaining why, she is forced to delve into the heart of a mystery whose solution reveals her worst nightmare: She herself has set in motion a terrible chain of events that could lead to her losing everything she loves. Even Jace.
Love. Blood. Betrayal. Revenge. The stakes are higher than ever in City of Fallen Angels.
Plot
SPOILERS AHEAD!
"How like Downworlders... expecting the Clave to clean your mess up for you."

This article needs to be cleaned up to conform to a higher standard of quality. Improvements that may be done include grammar, style, formatting, and spelling.
"I cannot be sure, though I think it has something to do with
the clarity of them."

This article contains content that was recently expanded and has not yet been reviewed by site staff. It may contain some errors and may not yet conform with the wiki's quality standards.
Part one: Exterminating Angels
Simon Lewis meets Isabelle Lightwood for coffee. While they talk, two human Subjugates enter the coffee shop and invite Simon to meet with their master. Despite Izzy's concern, he agrees, and leaves with them. The subjugates, named Walker and Archer, take Simon to a cafe. There, instead of Raphael Santiago, who Simon was expecting, he meets Camille Belcourt. She claims that Raphael has usurped her, despite being her second-in-command, and, according to her, her most loyal follower. She offers Simon to join her as the Daylighter, promising him, in return, to teach him to speak the name of God, and give him a place in vampire society. She gives Simon a vial of her grave dirt to summon her with, and gives him five days to make his decision.
Clary has a talk with Simon about him dating both Maia Roberts and Izzy at the same time. After the call, she finishes her training just as Izzy walks into the training room. Izzy asks if they heard about the dead Shadowhunter that was found in Brooklyn. Jace knew about it, while Clary didn't. She tells them more about the body, and then Clary leaves to get dressed. When she returns, she bids Izzy and Jace goodbye. Just as she is about to leave, Jace starts acting withdrawn, not wanting to give her mother another reason not to trust him. Clary leaves, confused.
Simon's band is in awe of Simon being a vampire. A boy named Kyle approaches the band as they practice in Eric's garage, asking if they were still looking for a lead singer. After a quick discussion, they agree to let him in the band. While Clary and Simon walk towards Luke's house, he reassures her that he doesn't blame her for putting the Mark of Cain on him. Clary leaves to go home. As Simon walks towards his own house, deep in thought, a van pulls up and a man leaps out with a knife in hand. Too startled to run, Simon is unable to move as the attacker makes a move. Just as he is about to pierce Simon's chest, he is yanked into the air as multiple wounds open on his chest. When he falls to the ground, he shatters into salt due to the effects of the Mark of Cain. When he returns home, his mother accuses him of lying to him. She reveals the bottles of blood and blood bags she had found while checking Simon's room for drugs, and asks if he joined a cult. He is forced to reveal that he has become a vampire. She doesn't believe him at first, and only after feeling his non-existent pulse is she convinced. She believes that he is not her son and begins to pray. Simon uses Encanto to make her believe it's a bad dream, and leaves the house after putting her to sleep.
Meanwhile, Jace dreams that he is reading his father's letters. The door opens, and Clary comes in. They make out on the bed, and Jace grabs Stephen's dagger and stabs Clary with it. Waking up, he thinks about how hard it has been to look at Clary because of his nightmares, and promises himself not to be like Valentine.
Simon meets with Raphael to ask him for a place to stay. Raphael says that if Simon were to live at the Hotel Dumort, he would have to give up his band and his mundane lifestyle and follow vampire norms. Simon turns down this offer, and Raphael leaves.
At Central Park, Jace sleeps while Clary attempts to draw him. He has another nightmare, and kisses Clary on waking up, surprising her. They just start training-Jace teaching Clary Muay Thai-when they are interrupted by the Seelie Queen. She informs them of the body of another dead Shadowhunter, whom the faerie physician had brought to the courts. As Jace calls Maryse to notify her of the body, the Queen feeds Clary's insecurities, telling her that Jace might not love her back anymore. Jace ends the call, but the Queen is gone.
Simon camps out in Eric's garage as the latter is not home. Clary tries to convince him to stay at Luke's house, but he refuses. Kyle appears, hunting for his keys, and asks Simon why he is sleeping on the floor. Simon tells him he got kicked out of his house, and Kyle offers him a room at his apartment.
Simon bonds with Kyle, telling him about Izzy and Maia. Clary attends her dress fitting for her mother's wedding to Luke, with Simon and Maia. Jocelyn and Luke arrive, and Jocelyn tries on her wedding dress as Luke and Maia chat about the Ironworks party being arranged by the pack for their engagement. When Maia leaves, Simon and Luke talk about Camille, Luke being surprised that Simon knows who she is. Jace arrives, having skipped a Conclave meeting to ask for his jacket back from Clary. He then leaves, saying he has training and turning down Luke's offer to have lunch with them. Clary is hurt by his behavior, and Luke reassures her that it doesn't mean anything.
At the diner, a news clip plays on the TV about an abandoned baby found behind Beth Israel Hospital. Clary makes an offhand remark about how cruel some mothers are to leave their children, however, this reminds Jocelyn of Sebastian, and she runs out. Luke runs after her, only to return to tell them that he would be taking Jocelyn home. On the way back to Kyle's apartment, Simon is yet again attacked by two muggers. He tries to tell them to stop when one pulls out a gun, only to have a man jump down on one of them. The other picks up the gun and pulls the trigger at Simon, but once again, due to the Mark, the mugger blows up into crystals of salt. The other one disappears, as Simon's savior is revealed to be Jace.
Clary arrives at Jace's room in the Institute to look for him, only to find it empty. While there, she opens his box and inspects Stephen's dagger and photograph. She feels as if she is intruding and leaves, only to run into Luke, who is there to talk with Maryse Lightwood. He insists she remain. Maryse tells them another Shadowhunter body was found, this time in pack territory. The earlier ones had been found in warlock and fae territory, making her think that someone is against the new Accords. The earlier two were identified to be Anson Pangborn and Charles Freeman, both Circle members. Just then, as Maryse wishes the dead could talk, Clary visualizes a new rune to somehow make them talk.
Jace and Simon go shopping for groceries. Simon inquires as to why Jace has been avoiding Clary, but Jace avoids the question, turning it back to Simon and the muggers who tried to attack him. They finish shopping, Jace buying only tomato soup and a mango for dinner.
Meanwhile, Clary, Luke, and Maryse arrive at the Silent City to use Clary's rune. They are introduced to Brother Zachariah, who leads them to the Ossuarium. Clary draws the rune on the dead Shadowhunter's arm, and he is awakened from the dead. He is in pain, and is unable to reveal anything but one name-Camille. Luke destroys the rune by pouring acid on it and Luke and Clary leave.
Jace and Simon talk about who might want to kill Simon. Simon drinks his last bottle of blood, as Kyle returns home. Instead of shaking his hand, Jace tenses up and accuses Simon of never mentioning that his roommate was a werewolf. Clary and Luke talk about her rune on the way back home, and though she expects him to, Luke doesn't blame her for anything.
Simon is shocked to learn that Kyle is a werewolf. Kyle, in turn, is surprised to know that Jace and Clary are Shadowhunters. He admits to being part of the Praetor Lupus, an organisation that caters to rogue Downworlders. He says he was assigned to Simon, on account of him being a daylighter. Simon goes to bed, with Jace watching over him. He is awoken by Luke calling him, telling him to meet him at the park in an hour.
Clary wakes up as Luke pulls out, and answers the phone when it rings, only to discover that her mother has already answered it. It turns out to be a call from Catarina Loss from Beth Israel Hospital, calling about the abandoned baby. She tells Jocelyn that the baby died the previous night, and Jocelyn insists to go down and see his body, as she knows what happened to him. Clary convinces her mother to let her tag along.
At the park, Luke asks Simon about Camille. Simon tells him about her offer, and says that if she has anything to do with killing Shadowhunters then he has no intention of joining her. Luke says he has a plan for when she asks for Simon's reply the next day. Simon reaches home to find Jace and Kyle playing video games. He worries that Jace isn't getting enough sleep, though Jace brushes it off. Simon suggests luring his attackers out, by attending his band's gig. Despite arguing a bit, Jace and Kyle agree to it. Before Jace leaves, Simon asks him if he plans to break up with Clary. Jace says he doesn't, and that he has his reasons for what he does, and he leaves.
At the hospital, Clary and Jocelyn meet Catarina, who shows them the body of the baby. At first glance, he appears to be a normal mundane child, but closer inspection reveals that his fingers had morphed into claws, and his eyes were black, not only the irises, but also the whites. Jocelyn is reminded of Sebastian, who also had the same eyes at birth, and runs out. Clary is handed a piece of cloth to try and uncover what magic was used on the boy, when she has a vision of another rune.
At the Alto Bar, Simon and his band get ready to play their gig. Meanwhile, Luke and Maryse talk to a Projection of Raphael at the Institute. Raphael claims that Camille's return is not possible. He reveals that one day he found her drinking the blood of a mundane, and demanded that she leave else he would oust her to The Clave. Luke then unveils his plan involving Simon. Clary meets Isabelle at the Alto Bar. Spotting Jace in the crowd, she confronts him about his behavior. He says he cannot even look at her, and Clary, heartbroken, runs out of the bar. Simon, having not eaten for days and being thirsty, runs off stage ill. Maureen, a fourteen-year-old mundane girl and the band's only follower, follows him, asking for a picture. Midway through taking a picture, his desire for blood wins over and he bites Maureen.
Jace follows Clary outside to an alley. He tells her that he has been looking after Simon. This does not reassure her. She tries to walk away, but slips in the rain and Jace catches and kisses her. They are interrupted by Izzy, who is looking for Simon. Simon is stopped from draining Maureen by an angry Kyle. Kyle sends Simon to wait by the van, where he is approached by a woman named Satrina Kendall who claimed she was a band promoter. She leaves after giving him her card. Just then, Izzy approaches him followed by Maia, who are both shocked to learn that Simon has been dating the other behind their backs. They both end things with him. Kyle comes out of the bar, and Maia recognizes him and Kyle her, she calls him "Jordan", and she leaps up to attack him.
Part Two: For Every Life
Maia is stopped by Izzy, but not before she gets a few swipes in. Izzy tells Simon to take Kyle back home. Kyle reassures him that Maureen is all right, and Simon puts two and two together, figuring out that Kyle is really Jordan Kyle, Maia's ex-boyfriend who turned her into a werewolf. The next day he confronts Jordan, repeating what Maia had told Simon about him. Jordan admits that Maia is the reason he joined the Praetor.
Clary uses the rune she visualized on the scrap of cloth given to her by Catarina. On the cloth, words appear, directing her to the Church of Talto, 232 Riverside Drive. She sends a text to someone to meet her there, and gathers her weapons. Jordan tells Simon that he and Maia used to date, before he got bitten. After, he was subject to waves of jealousy and so Maia broke up with him. One night on the full moon, he saw her and bit her. Hence, he joined the Praetor to stop it from happening to other people like him. He had taken Simon's assignment on seeing Maia's name in his file. Just then, the bell rings, and a note asking Simon to come to 232 Riverside Drive before dark or someone would cut his girlfriend's throat. He calls Maia and Izzy to check if they are all right, and calls Clary, who unbeknownst to him, is looking for the very same location. Assured Clary has not been kidnapped, he puts down the phone as she enters the church. Jace goes to Simon and Jordan's apartment to call Simon to the Conclave meeting.
At the Church, Clary realizes that someone is trying to make more babies like Sebastian. She is attacked by a Hydra demon, which she tries to dispatch using an Athame which she runed, and is later helped by Isabelle. The two kill the demon together. Simon meets with Camille in daylight hours. Simon takes several pictures of her and sends them to someone, and just as he is about to be forced to sign a blood oath, a Portal opens and several Shadowhunters pour out. Clary tells Isabelle about her visit to the hospital and the babies, and Izzy agrees with her. At the Institute, she tells Clary that Simon is with the Conclave for vampire politics.
Camille, instead of fighting, runs to daylight. She is surrounded by the Shadowhunters and mourns the deaths of Walker and Archer. She says she will only talk to one person-Magnus Bane. Simon and Isabelle talk about Jordan, and Simon's relationship with Clary. Clary wakes up in a spare bedroom in the Institute to find Jace sitting beside her. They talk, Jace apologizing about the way he's been acting. They kiss, and just as things are about to go further, Jace cuts Clary on the arm with the dagger. Meanwhile, Camille tries to get Simon to join her, when Magnus and Alec arrive, returned from their vacation. Magnus and Camille appear to know each other, and Magnus reveals that Camille used to be his girlfriend.
Alec and Magnus argue about how many people the former has been with before Alec. Alec storms out, angry. Magnus tells Simon that in a hundred years they'll be the only ones alive. Jace tells Clary about his dreams, and explains them to be the reason he has been avoiding her. She convinces him to go to the Silent City to visit the Silent Brothers.
Camille wants Magnus to speak to the Shadowhunters on her behalf. She says she has been acting on a higher power, though she refuses to give a name. Magnus says he will do what he can. At the Silent City, the Silent Brothers explain that the nightmares Jace has been having are due to his vulnerability to demonic influence, which are a result of his resurrection by the Angel Raziel after Valentine stabbed him. They further explain that all Shadowhunters are subject to a ritual to protect them as infants. When Jace died, it was likely that he had been reborn without the protection. The Brothers want to perform the ritual again to give him the protection performed. Clary wants to stay with Jace, but the Silent Brothers say that she will be a distraction. Jace tells Clary that he will get better for her and Clary promises to see him very soon. Clary and Jace say their goodbyes and Clary leaves for the night. Simon wakes to find out that Maureen has been found dead by mundane police. He realizes the note which he received meant Maureen as his girlfriend.
In his cell, Jace has a dream that he is back in Idris, at the valley where he fought Sebastian. Max, his adoptive brother, appears to him and persuades him that the dreams are not telling him to hurt Clary, but rather that he is already hurting her, and that his father (Stephen Herondale) is worried about him. He cuts his arms after Max convinces him that he will destroy the rotten part of him. Max reaches for Jace's blood, and with it, he draws a rune on Jace's chest. Max's voice and appearance begin to change, and Jace collapses in pain.
Simon, guilty about Maureen, calls Jace to ask for his help in figuring out who killed her. Izzy answers, and after listening to the note, tells him that that was the location of the Church of Talto, where Clary asked her to meet her the previous day. They agree to talk more at the Ironworks party that evening.
At the Ironworks party, Clary is approached by Kaelie Whitewillow on the behalf of the Seelie Queen, to ask her why she still wears the Morgenstern family ring. She also gives her a bell, by which she can call on someone to take her to the Faerie courts. Jocelyn worries about Clary's relationship with Jace, and Clary reassures her mother that she is all right. Simon and Jordan arrive, and with Izzy, they walk into the party. They meet Clary, and notice that Alec and Magnus seem to be fighting. When Magnus says he knows Woolsey Scott, the founder of the Praetor Lupus, Alec gets mad and asks if Magnus dated him too. Alec leaves, angry. Clary also disappears suddenly, and when Simon catches up she explains that she thought she saw Jace. She tells him Jace has been having bad dreams, and leaves to find him. Simon apologizes to Maia, and asks her to listen to Jordan.
Clary catches up with Jace, who tells her he got released early. He asks Clary if she is willing to bind the two of them together with a permanent rune. She agrees, however, when Jace draws the rune, it doesn't speak of love, rather something much darker. Clary faints, as Jace apologizes to her. Magnus and Alec fight about Magnus's past, Alec asking Magnus if he'd be willing to make him immortal. Magnus disagrees, and Isabelle interrupts saying that Camille has escaped from the Sanctuary and that Maryse is demanding Magnus's help.
Simon is standing outside, when Maureen comes up to him, resurrected as a vampire. She says it would help her if Simon went with her, and so he agrees. She takes him to a fancy building, where they get on an elevator. Izzy notices Simon's disappearance, and along with Jordan, Alec, and Maia, she searches the whole party. Not finding him, they decide to head back to Jordan's apartment to check there. At the building, the woman who approached Simon to promote the band dismisses Maureen, leaving Simon alone with her. She reveals herself to be Lilith, the mother of all demons. She explains that she needs his daylighter blood to resurrect Sebastian.
At Jordan's apartment, Isabelle and her friends search for clues to Simon's whereabouts. On finding the card Lilith had given Simon as Satrina, Alec realizes that Satrina is another name for Lilith, as is Talto. Izzy fills them in on the events of the Church of Talto, and Alec informs them that Lilith is associated with babies, being barren herself. They head to the Church of Talto to investigate further. Meanwhile, Lilith explains that she came through when Valentine opened the doorway to the demon realms, and preserved Sebastian's body. To provide incentive for Simon to provide his blood, she commands Jace-who is under her influence-to bring her Clary.
Meanwhile, Clary wakes up and is shocked on seeing Jace's rune. Jace says no one will notice his disappearance; they are more likely to notice Clary is missing. Jace takes her to Lilith, and Clary is surprised to see Simon there. She is appalled on seeing Sebastian in his coffin. Lilith threatens Simon with Jace cutting Clary's throat if he does not provide her with his blood, and when he doesn't, Jace cuts Clary a little. With a start, Clary realizes that Lilith is the very demon who provided Valentine with her blood to experiment on Sebastian. Clary is forced to tell Simon about Jace's death. In order to protect Clary, he bites Sebastian to resurrect him.
At the address found on Simon's card, Alec, Izzy, Jordan and Maia find a room full of disfigured babies, like the one found behind the hospital. All the children are dead. Izzy notices someone in the corner, who turns out to be the mother of one of the babies, who explains to them what happened. She says that Lilith gave them injections of demon blood, and that they were slowly dying. They all worshipped Lilith, despite all this. Just then, a wave of people like the mother swarm out, and begin attacking the gang. Clary, meanwhile, pretends that she is unable to watch Simon drink Sebastian's blood, and embraces Jace. She grabs his dagger, and cuts through the rune on his chest, freeing Jace from Lilith's influence. Simon stops drinking Sebastian's blood, and Lilith shrieks at him to give the dead boy his own blood. At the same time, Alec and his friends fight off the cultists. He chases one of them, to find Camille. She claims that the cultists kidnapped her and brought her there, and promises to tell him who is in charge if he helps her. She taunts him with the temptation of immortality, and he cuts her free, however, she disappears.
Jace throws the knife at Lilith. She retaliates by flinging him against a wall and throwing Clary into the bushes, and summoning two Hellhounds. Jace kills the hellhounds and asks her to run away. Lilith compels Simon to give Sebastian his blood, but he doesn't. Jace and Lilith fight, and Lilith takes away Jace's Seraph blade. However, she can't kill him as Jace is Sebastian's tether. Instead, she captures Clary, who didn't run away, and tortures her with a whip. Simon runs in front of her, and Lilith's whip is about to strike him, when she shatters into salt due to the effects of the Mark of Cain.
Simon carries Clary to the elevator where they run into Isabelle, Alec, Maia, and Jordan. Alec heals Clary, and they exchange stories. They realize that they cannot harm Sebastian's body as it is still connected to Jace. Everyone else heads down, leaving Clary and Jace on the roof. She reassures Jace that he does deserve Alec and Izzy and herself, and that he belongs with them. She tells him she loves him no matter what, and that she is ready to lie for him. The Clave arrives, and Jace tells Clary to go on, and that he will come down in a minute. Alec and Magnus make up, as do Simon and Izzy. Clary reaches down, and reconciles with her mother and Luke. Luke reassures Simon that what happened with Maureen wasn't his fault, and it is in his nature-he needs to be true to himself. Simon decides that he is going to return to his home.
On the roof, Jace is compelled to pick up the dagger. The rune across his chest heals and becomes whole again, taking away his free will. Sebastian's voice echoes in his head, asking Jace to come closer to the coffin, which is now glowing. The voice commands him to cut his palm, and drip his blood onto Sebastian's body, as he chants in some demonic language. Sebastian is resurrected, fully and wholly alive, and Jace loses complete control over himself, as Sebastian now controls him.
Chapters
Part One: Exterminating Angels

The Master
Falling
Sevenfold
The Art of Eight Limbs
Hell Calls Hell
Wake the Dead
Praetor Lupus
Walk in Darkness
From Fire Unto Fire

Part Two: For Every Life

232 Riverside Drive
Our Kind
Sanctuary
Girl Found Dead
What Dreams May Come
Beati Bellicosi
New York City Angels
And Cain Rose Up
Scars of Fire
Hell is Satisfied
Characters
Shadowhunters
Downworlders
Demons
Lilith - the Greater Demon who, because of Valentine, became the demonic blood donor of Jonathan Morgenstern and is now intent on doing something about his death and Jace's resurrection.
Mundanes
Gallery
Art
Editions
International covers
Videos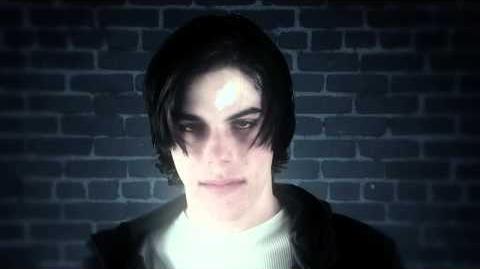 Special content
Repackaged paperback edition: The repackaged and updated version of the books' paperback, released on September 1, 2015 in the US and Canada, features a new cover with spine art and includes minor corrections and changes, a map of Shadowhunter New York by Drew Willis and new exclusive content written by Cassandra Clare, including a new foreword and the extra story The Act of Falling which was previously released in certain edition of City of Lost Souls and is Jace's perspective in the alley scene.[1][2]
LitJoy Special Edition: A special edition box set of the series released in February 2022 as a part of the Cassandra Clare Collection. It features cover art by Carlos Quevedo with lettering by RJ Gualberto, symbol sprayed edges, endpaper artwork by Jorge Jacinto, 2 tip-in artworks by Sophia Volovik and Gonzalo Mendiverry, and all the books are in a slip case designed by Irina Shirokova featuring Clary's new Empathy rune by Valerie Freire created for the box set. Each book has Cassandra Clare's annotations and select chapters from The Shadowhunter's Codex. City of Fallen Angels also has the map of Shadowhunter New York and The Act of Falling from the repackaged edition.[3]
See all freely released additional content here
Trivia
The original (now hardbound) cover features Simon Lewis and Clary Fray. The repackaged (paperback) cover features Isabelle Lightwood, poised to strike with her whip in hand and her ruby necklace around her neck, with a Vision rune behind her.
The cover model for Simon is Andrew Gray. The model for Clary (Halle Arbaugh) is the same as the one on the succeeding book covers, for City of Lost Souls and City of Heavenly Fire.
Max Reed portrayed Simon in the book trailer. Him and the other people who portrayed the characters in the trailer and related videos were also used as the faces of the characters in Maureen's (presumably handled by Cassandra Clare and/or Simon & Schuster) Tumblr blog.
The title, unlike its predecessors, is metaphorical (with the subsequent books in this second trilogy following suit). The tagline for the book was "Who will be tempted by darkness?" and the book is about temptation and falling prey to darker impulses; Simon falls when he bites Maureen, Alec when he frees Camille, Clary when she raises the dead, and Jace, of course, most spectacularly of all. "We all fall from grace, is the message."[4]
The book is told from several points of views, namely: Clary, Jace, Simon, Isabelle, Alec, Maia, and Magnus's.
References