City of Bones

Information
Author/s
Cover artist
Narrator

Ari Graynor
Mae Whitman

Release Date
March 27, 2007 (US)
Publisher

Simon & Schuster
(Margaret K. McElderry)

Cover
Series
Chronology
Preceded by
Clockwork Princess
Followed by
City of Ashes
Release order
Released after
N/A
Released before
City of Ashes
City of Bones is the first novel in The Mortal Instruments series written by Cassandra Clare.
Description
When Clary Fray heads out to the Pandemonium Club in New York City, she hardly expects to witness a murder. Much less a murder committed by three teenagers covered with odd markings. This is Clary's first meeting with the Shadowhunters, warriors dedicated to ridding the earth of demons — and keeping the odd werewolves and vampires in line. It's also her first meeting with gorgeous, golden-haired Jace. Within twenty-four hours, Clary is pulled into Jace's world with a vengeance, when her mother disappears and Clary herself is attacked by a demon. But why would demons be interested by an ordinary mundane like Clary? And how did she suddenly get the Sight? The Shadowhunters would like to know...
Chapters
Part One: Dark Descent

Pandemonium
Secrets and Lies
Shadowhunter
Ravener
Clave and Covenant
Forsaken
The Five-Dimensional Door
Weapon of Choice
The Circle and the Brotherhood

Part Two: Easy is the Descent

City of Bones
Magnus Bane
Dead Man's Party

The Memory of Whiteness
The Hotel Dumort
High and Dry
Falling Angels
The Midnight Flower
The Mortal Cup
Abbadon
In Rat's Alley

Part Three: The Descent Beckons

The Werewolf's Tale
Renwick's Ruin
Valentine

Epilogue: The Ascent Beckons
Characters
Shadowhunters
Mundanes
Simon Lewis - Clary's geeky, mundane best friend who inevitably joins Clary and the Shadowhunters because of his feelings for her.
Madame Dorothea - a hedge-witch who has lived in the same building as the Frays for years.
Downworlders
Gallery
Covers
Art
Video
Special content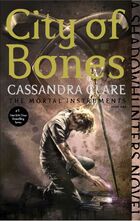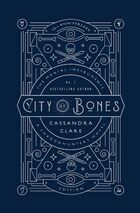 Repackaged US/Canada paperback edition: The repackaged and updated version of the books' paperback, released on September 1, 2015, includes minor corrections and changes, a map of Shadowhunter New York and new exclusive content written by Cassandra Clare,[1][2][3] including a new foreword and the extra story When Midnight Comes.
Limited repackaged hardbound edition: A hardbound City of Bones with the new cover art (normally, from September, the repackaged editions are only in paperback while the hardbound editions will be printed with the original designs; this will be a special, limited edition) which will also contain the maps from the repackaged paperbacks, a poster of Clary done by Alexander Taini, and a brand new extra: the beginning of the book rewritten from Jace's point of view called Awake.[4][5]
10th Anniversary Special Edition: A special edition released on November 7, 2017 to commemorate the book's 10-year anniversary since its first release. It features new cover art, gilded edges, over thirty interior illustrations, six new full-page color portraits of characters, four bonus stories that have previously appeared in limited distribution, a new piece written by Cassandra Clare,[6] and contains the "Clave's files" on Jace, Clary, Alec, Isabelle, Raphael, Magnus, and Church, which specifies their birthdays,[7] their scars and Marks, and the Clave's analysis of their personalities.[8]
Film adaptation
The film adaptation of the book, The Mortal Instruments: City of Bones, was released on August 21, 2013. Lily Collins and Jamie Campbell Bower starred as Clary Fray and Jace Wayland, respectively, and the film was directed by Harald Zwart. The film was set to be the first of at least a trilogy; the poor reception, however, led to the cancellation of future plans and the eventual reboot into a TV series.
Trivia
The original (now hardbound) cover features Jace Wayland, the skyline of New York City and the graves found in the Silent City. The repackaged (paperback) cover also features Jace (with the model the same as the one on the original City of Lost Souls cover), this time kneeling and reaching for the Mortal Cup's tarot card on the ground, wearing his Morgenstern family ring on one hand and a sword in the other, and the Enkeli rune behind him.
The Jace on the original cover was in fact two people edited and put together as one.[9]
The title refers to the Silent City, which is sometimes referred to as the City of Bones.
The book is told from different points of views, namely from: Clary and Jace, and briefly in a demon's and Luke's.
Cassandra Clare is good friends with the author Holly Black. Both have referenced each other's works in their own books.

Stepping Razor, a band Clary was listening to in her room, is the name of Ellen Fierch's band in Holly Black's Tithe: A Modern Faerie Tale. (chapter 2, Secrets and Lies)
Val and Luis, characters from Valiant, are seen by Clary during a carriage ride on the way to the Silent City. (chapter 10, City of Bones)
References