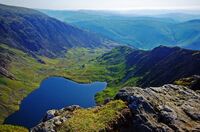 Cadair Idris is a mountain reserve in Wales where Axel Mortmain hid his army of automaton creatures. This is also where he took Tessa Gray as prisoner.
History
Will and Cecily had climbed the mountain before with their father, Edmund Herondale.
Mortmain had been hiding out in the mountains for months before they realized where he was. Though Jessamine knew, she could not utter the words directly because of a block on her mind placed there by Mortmain, and had thus been saying "Idris", letting the others assume that she meant their home country, Idris. It was Cecily that realized she was referring to Cadair Idris when she overhead Jessamine calling Will "a terrible Welshman" for not understanding. Will later traveled there via horse, and the others followed through the newly-created Portal.
Community content is available under
CC-BY-SA
unless otherwise noted.