"Their world was not the same shape as the one she knew."

The subject of this article is a real-life person, place, company, product, or creative work that has been mentioned "in-universe" in a canon source. The Shadowhunters' Wiki is written from the perspective that all information presented in canon is true (e.g., Idris really exists), and, as such, details contained in this article may differ from real world facts.
The Burren is a karst landscape in County Clare, Ireland. The Seventh Sacred Site is located here; it is the portal tomb Poll na mBrón—"the cavern of sorrows". Because it is a place where ley lines converge and the tomb acts as a doorway, the Burren is a good place to raise a demon—especially a powerful one.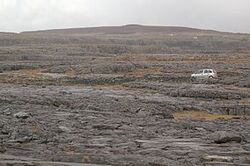 History
The Burren was the place where Sebastian Morgenstern chose to create the Infernal Cup and to perform the ceremony of transforming the remaining loyal followers of Valentine Morgenstern and those unhappy with the Clave into Dark Shadowhunters. After the ceremony, they were later joined by the New York pack and some of the Conclave who faced Sebastian's new Endarkened army in battle.
Simon Lewis fought his way through the battlefield and handed the sword Glorious to Clary Fray to use it on Sebastian—to sever his bond with Jace as well as to kill him by burning all the evil inside him. Clary, however, was unable to get close enough to Sebastian and instead ended up using the sword on Jace. The battle ended when Sebastian and his army fled.[1]
References