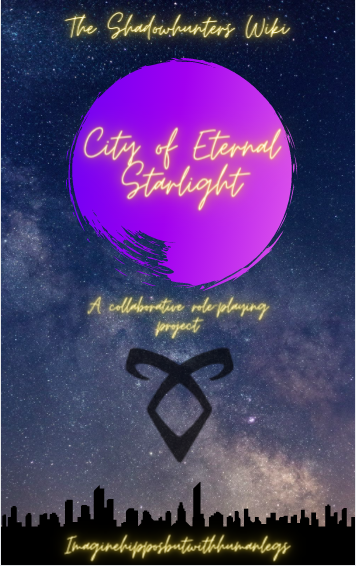 Cover designed by Catnip
~Chapter 8
Ellodine, Megan, and Charlotte train together and talk about Amaya

Robin and Octavia go on a date

Amaya buys a strange bracelet at the shadow market. Gale seeʻs and tells Charlotte about it later

Gale and Charlotte plan their wedding

Eleanor and Jason have their parabatai ceremony, and the entire New York institute attends the afterparty in Idris. Annalynne and Maddax also attend, since they are close with the twins

The demon in the cursed mirror tells Ash to poison Katieʻs drink (not deadly, just enough to put her in a coma) or else the demon will harm Charlie. Scared out of her mind, Ash agrees

Katie falls into a coma and is unable to be awoken. Travis is heartbroken and Annalyne is incredibly worried. Katie is sent to the Basilias. They suspect one of them did it, but because Ash seems so shaken they decide it isnt her. Eventually, they blame Chloe because she has always been jealous of Katie.

The New York werewolf pack gets into a fight with some vampires (Madylin, Jaden, and Charlie are all involved)

Hailey and Lyric try to train with Percy and Reyna, but the twins just keep asking questions about Emily and Katherine, and where Tiffany stands in the drama

Katherine catches Percy and Reyna spying on her at the Shadow Market

Tiffany and Emily get into a fight with some demons while at the beach with Sasha. Kayla rushes Sasha away from the fight.
~London:
Nephilim
Harry Graymark (additional character)

Elizabeth Graymark (additional character)

@Rosa8285 (Ellodine Blackthorn)

Robin Whitelaw (additional character)

Hailey Graymark (additional character)

August Blackthorn (additional character)

Octavia (additional character)

@Charlotte Mary Fairchild-Branwell (Charlotte Blackthorn)

Gale Branwell (additional character)

Megan Branwell (additional character)

Darius Graymark (additional character)
Downworlders
Marcus Flynn (additional character)

@Tessa150 (Alyssa)

Chelsea (additional character)
Mundane
Additional Characters:
Harry Graymark: age 42, male, husband of Elizabeth Graymark, father of Hailey Graymark, head of the London institute

Elizabeth Graymark: age 43, female, wife of Harry Graymark, mother or Hailey Graymark, head of London institute

Robin Whitelaw: age 19, male, boyfriend of @Rosa8285

Hailey Graymark: age 13, female, daughter of Harry Graymark and Elizabeth Graymark, like a sister to @Rosa8285, friends with @Tessa150, has a crush on Lyric Ashdown from the LA institute, friends with @EmilyGray13 from the LA institute

August Blackthorn: age 5, male, younger brother to @Rosa8285

Marcus Flynn: age 25, male, werewolf, Praetor Lupus member (his assignment is @Tessa150 and she lives with him in his flat)

Chelsea: age unknown, female, vampire, head of the London Clan.

Octavia Wayland: more info needed, @Rosa8285's parabatai, cousin to Chloe Wayland, HATES @Shadowhunters2006

Darius Graymark: age 19, male, son of Harry and Elizabeth Graymark, older brother to Hailey Graymark, friends with Robin, hates Lyric Ashdown

Gale Branwell: age 19, male, fiance to @Princess Charlotte Abelfreyja Drossel Flugel from an arranged marriage from before his parents died, older brother to Megan Branwell (but same age since they were born within a year of each other), loves @Princess Charlotte Abelfreyja Drossel Flugel

Megan Branwell: age 19, genderqueer but goes by feminine pronouns, younger sister to Gale Branwell (but same age since they were born within a year of each other), friends with @Rosa8285 and @Princess Charlotte Abelfreyja Drossel Flugel
~New York:
Nephilim
Paul Lightwood (additional character)

@Fangirl4ever2005 (Eleanor Lightwood)

Jason Lightwood (additional character)

@ILoveRon209 (Ash Lightwood)

Darren Ashwalker (additional character)

Chloe Wayland (additional character)

Travis Aldertree (additional character)

Katie Montclaire)
Downworlders
Aaron Wong (additional character

@Neeha Fray (Jaden Dario Crystalfire)

Madilyn Ryan (additional character)

Lyra (additional character)

Serina Wells (additional character)

Charlie (additional character)
Mundanes
Harrison Allen (additional character)
Additional Characters:
Paul Lightwood: age 57, male, single father to @Fangirl4ever2005 and Jason Lightwood, uncle to @ILoveRon209

Jason Lightwood: age 16, male, son of Paul Lightwood, twin brother to @Fangirl4ever2005, cousin to @ILoveRon209

Harrison Allen: age 15, male, friend of @ILoveRon209

Aaron Wong: age 27, male, werewolf, alpha of the new york werewolf pack

Madylin Ryan: age 16, female, werewolf, girlfriend of @Neeha Fray, doesn't like @Fangirl4ever2005 (because its common knowledge in New York that she's a hottie and Madylin feels threatened)

Darren Ashwalker: age 17, male, boyfriend of @Fangirl4ever2005, friends with Jason

Lyra: exact age unknown, female, faerie, sells "love potions" at the shadow market

Serina Wells: age unknown, female, high warlock of Brooklyn

Charlie: non-binary, vampire, significant other to @ILoveRon209

Chloe Wayland: age 18, female, cousin of Octavia Wayland

Travis Aldertree: age 19, male, boyfriend of Katie Montclaire (dating since they were 15 but liked each other since they were kids)

Katie Montclaire: age 19, female, girlfriend of Travis Aldertree (dating since they were 15 but liked each other since they were kids)
~LA:
Nephilim
Owen Penhallow (additional character)

Lacy Penhallow (additional character)

Marcus Flynn (additional character) (visiting from London)

@Tessa150 (Alyssa) (visiting from London)

Kayla Penhallow (additional character)

@O Sy S Ardnosm (Tiffany Morgenstern)

@EmilyGray13 (Emily Blackthorn)

@Shadowhunters2006 (Katherine Herondale)

Lyric Ashdown (additional character)

Hailey Graymark (additional character) (visiting from London)

Sasha Fairchild (additional character)

Trevor Pangborn (additional character)

Percy Carstairs (additional character)

Reyna Carstairs (additional character)
Downworlders
Elisha (additional character)

Benny (additional character)
Additional Characters:
Owen Penhallow: age 40, male, husband to Lacy Penhallow, father of Kayla Penhallow, uncle to Lyric Ashdown, head of LA institute

Lacy Penhallow: age 39, female, wife of Owen Penhallow, mother of Kayla Penhallow, aunt to Lyric Ashdown, head of LA institute

Kayla Penhallow: age 20, female, daughter or Owen and Lacy Penhallow, cousin to Lyric Ashdown, girlfriend of Elisha

Lyric Ashdown: age 14, male, nephew of Owen and Lacy Penhallow, cousin of Kayla Penhallow, friends with Hailey Graymark from the London institute

Sasha Fairchild: age 6, female, close with @O Sy S Ardnosm

Elisha: age unknown, faerie, girlfriend of Kayla Penhallow but has a crush on @EmilyGray13, dislikes @Shadowhunters2006

Benny: more info needed

Trevor Pangborn: age 19, male, friends with Lyric Ashdown

Percy Carstairs: age 15, male, twin brother to Reyna Carstairs, was relocated from the Shadowhunters Academy to the LA Institute

Reyna Carstairs: age 15, female, twin sister to Percy Carstairs, was relocated from the Shadowhunters Academy to the LA Institute
~Idris
Nephilim
Maddax Cartwright (additional character)

Annalynne Cartwright (additional character)
Additional Characters:
Maddax Cartwright: age 24, male, older brother to Aegis Cartwright (who is dead), married to Annalynne Cartwright nee Montclaire

Annalynne Cartwright: age 24, female, older sister to Katie Montclaire, married to Maddax Cartwright
~Clave announcements
If I havent posted a characters playlist, its because i either never recieved or cant find/lost (im sorry) the picture of them so if you guys could submit one that would be great (I will get the ones for percy and reyna)

From now on i will be putting the characters names under the chapter events rather than tagging people

Ive started a similar storyline in the harry potter wiki for anyone interested (https://harrypotter.fandom.com/f/p/4400000000000076272/r/4400000000001509896)
Link to signups and character info:
https://shadowhunters.fandom.com/f/p/4400000000000061699/r/4400000000000750373
LINK TO PREVIOUS CHAPTER
https://shadowhunters.fandom.com/f/p/4400000000000064993/r/4400000000000774939